Following heels of last year's successful World Wetlands Day celebration, Nepal Tourism Board (NTB) promoted World Wetlands Day 2006 celebration, including Taudaha Jamboree.
To undertake actions aimed at raising awareness of wetland values and benefits in general and Ramsar Convention in particular, Friends of the Bagmati in partnership with World Wildlife Fund-Nepal (www.wwfnepal.org), Department of National Park & Wildlife Conservation (www.dnpwc.gov.np), Sustainable Tourism Network (www.welcomenepal.com/stn) and other partners organized various events during this celebration.
Cleaning Up Program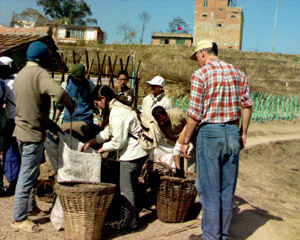 The cleaning up program at Taudaha Lake on 21st January, initiated by Taudaha Youth Club (TYS), was organized as a pre-event of 2nd Taudaha Jamboree and participated in by the members of implementing partners of various activities during the celebration. Participants collected rubbish and removed some invasive weeds at the shoreline of Taudaha Pond.
2nd Taudaha Jamboree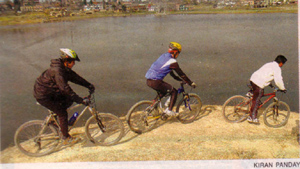 During this celebration interactions and features about wetlands of Nepal were broadcast through various FM Radio stations including Radio Sagarmatha 102.4 FM (www.radiosagarmatha.org), co-organizer of celebration events. The main attraction of this celebration was Taudaha Jamboree on 28th January that included activities such as Cycle Rally, Bird Watching, Nature Hike Race, Mithila Art, Exhibitions and Green Map for School Students.
Cycle Rally: The day began with a Cycle Rally joined in by more than 50 cyclists wearing T-Shirts with message to conserve ponds of Kathmandu Valley and an implementing partner being Nepal Cycling Club (NCC). The rally inaugurated by Mr. Subash Nirola, Director, NTB started from Dhasharath Stadium, Tripureshwor and ended at Taudaha after covering approximately 10 Kilometers.
The cyclists joined other participants of the Jamboree at Taudaha and enjoyed the celebration including fun filled and adventure activities like Bird Watching and Nature Hike Race.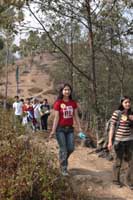 Nature Hike Race: The Wildlife Conservation Nepal (WCN) (www.wcn.org.np) conducted the race and organized various activities like Mithila Art, On-the-Spot Art Competition and Green Map for school students.
The Hike Race was one of the main attractions of the Jamboree. Hundred and fifty participants raced against each other. The hike was organized on Boson Danda, a hill overlooking Taudaha Pond. On reaching the peak, the hikers were felicitated and their pictures taken against the backdrop of the Taudaha Pond. It was Mr. Dipendra who stood first in the race by completing the hike in 39 minutes.
This event was conducted to promote Taudaha vicinity as a good nature hike route in order to preserve the entire area in its natural form. Taudaha is surrounded by forested hills, which could be used as a perfect getaway for a peaceful hike, just within a few minutes drive from Kathmandu city.
Mithila Art: On the Spot Mithila Art Workshop was conducted in order to orient the participants about Mithila Art. They were also provided information about this art's history and significance in our Nepali culture. Participants portrayed Taudaha in different aspects in the canvas.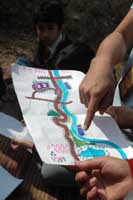 Green Map: WCN also facilitated eight School Students of Kathmandu Valley to make green maps from Balkhu to Taudaha. The map was an interpretation of young students about the state of trails leading to the wetland. Two maps were made on the occasion. The first map pointed out polluted spots, green zones while the second made recommendations to achieve environmental objectives. These maps are student friendly and do play a significant role in identifying the major environmental impacts in the area.
On-the-Spot Art Competition: Eight students from the local schools of Taudaha, Bungamati and Khokana participated in the On the Spot Art Competition. The students painted pictures of wetlands on the theme "In The Face Of Poverty… Wetlands Are Lifelines". Norbu Sherpa of Shree Yuba Prativa HS School of Khokana came first in the event while Anil Tamang and Rajesh Nagarkoti of Shree Yuba Prativa HS School, Khokana and Cardinal International. (Boarding) School of Pharping came second and third respectively. The winners were awarded by DNPWC during a ceremony organized at NTB on 2nd Feb. 2006,World Wetlands Day.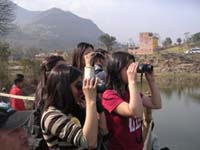 Bird Watching: While Bird Watching and Exhibitions were co-organized by Bird Conservation Nepal (www.birdlifenepal.org) and TYC, implementing partners of the Jamboree since its inception.
Bird watching program was organized in order to give an opportunity to the participants to become familiar with the birds in and around Taudaha Pond. The professional bird watching experts accompanied the participants.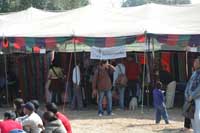 Exhibitions: The photographs, artworks and handicrafts were on display at the exhibition. They were sold so as to raise funds for conservation activities at local level.
Few door prizes were offered to the participants of the Jamboree. The Buddha Air P. Ltd., Dwarika's Hotel, Club Himalaya, The Last Resort P. Ltd., Everest Net P. Ltd. and Mountain Tea Trader sponsored the prizes while Gairidhara Khaja Ghar, Nebico P. Ltd. and United Marketing Inc. sponsored logistics and food.
The students, government and non-governmental organization's representatives, tourism entrepreneurs, tourists, wetland experts, ornithologists, volunteers and general public attended the events. More than four hundred people attended the Jamboree.

Workshop on Ponds of Kathmandu Valley
The workshop was opened by welcome address by Mr. Siba Bhakta Rajbhandary, Vice-President of the Friends of the Bagmati and an inaugural speech by 12 years old Master Dipesh Nepal from Taudaha Area.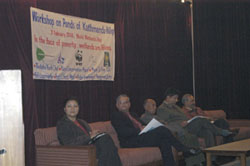 Following the inaugural speech Mr. Bhairab Risal, senior journalist at the Nepal Forum of Environmental Journalists (NEFEJ) delivered keynote speech while local conservation activists Mr. Purusottham Budhathoki and Mr. Binod Khadka from Taudaha and Nagdaha area respectively shared their success stories regarding conservation of these important ponds of Kathmandu Valley. Mr. Risal stressed on the need to carry development activities in line with proper management of ponds.
The workshop was divided into two sessions: 1. Status & Values & 2. Awareness & Conservation. Mr. Bhushan Tuladhar, Executive Director, Environment and Public Health Organization (ENPHO) moderated the first session while Mrs. Renchin Yonjan, Social Architect moderated the awareness and conservation session.
In the first session, Dr. Bishnu Bhandari, President, Forum for Ecosystem Management (FEM) made a presentation on 'Wetlands and Culture' and Mr. Subash Nirola, Director, Nepal Tourism Board made a presentation on 'Tourism Values of Ponds of Kathmandu Valley' while Ms. Ishana Thapa, Program Officer at BCN made a presentation on 'Status of Avifauna of Kathmandu Valley'.
Stating that nature and culture are blended and complementary to each other, Dr. Bhandari focused on active, well-informed and responsible participation of relevant stakeholders for a successful conservation activity. Mr. Nirola during his presentation stressed on the role of all stakeholders 'to start with a Pond (Pokhari) Management Plan of Rani Pokhari, Kamal Pokhari and Nag Pokhari and continue till we all achieve the final goals in making all existing and potential ponds of Kathmandu Valley a potential tourist attraction.' The participants, for including comprehensive information about avifauna of wetlands of Nepal in general and Taudaha in particular, appreciated the presentation made by Ms. Thapa.
Presenting on the awareness and conservation session were Mr. B.K. Uprety, Under Secretary, Ministry of Environment, Science and Technology (MoEST) on 'Wetlands Conservation and Education,' Mr. Bhupendra Basnet, General secretary, Nepal Forum of Environmental Journalists (NEFEJ) on 'Role of Press and Media in Conservation of Ponds' and Mr. Prakash Amatya on 'Linkages between Rain Water Harvesting and Conservation of Ponds'.
Mr. Uprety stressed on the need to focus on education if we want conservation to last for centuries. Presenting in the same session Mr. Amatya said 'Even Melamchi may not be the answer to our water shortage problem, we need to look for cost effective alternatives – and that can be Rain Water Harvesting'. While Mr. Basnet highlighting the role of press and media in conservation of ponds called upon all media people to take their responsibility in this regard.
Ms. Neera Shrestha Pradhan from WWF Nepal Program and Mr. Jhamak B. Karki at DNPWC facilitated the overall organization and management of the workshop.
Around 190 people from colleges, government and non-governmental organization's representatives, tourism entrepreneurs, wetland experts, ornithologists, media/press participated in the Workshop.
The Roots and Shoots Nepal and Urban Environment Management Society (UEMS) were also the co-organizers of all the events during Wetlands Day celebration. Their support during the program through volunteer mobilization was crucial.
We believe this program contributed to the promotion of ponds of Kathmandu Valley in general and Taudaha Lake as a tourism destination in particular. We are very thankful to all those who helped to make this program a great success.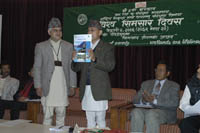 Prior to this workshop, IUCN Nepal, DNPWC and WWF Nepal organized a national program to commemorate the Day. During the program, Chief Guest and Secretary of the Ministry of Forests and Soil Conservation Dr. Swoyambhu Man Amatya launched wetlands poster and a book titled An Inventory and Assessment of Invasive Alien Plant Species of Nepal (IUCN Nepal) and Fact Sheet of High Altitude Wetlands of Nepal (WWF Nepal).